Hand-Stripping from A to Z - Certificate Course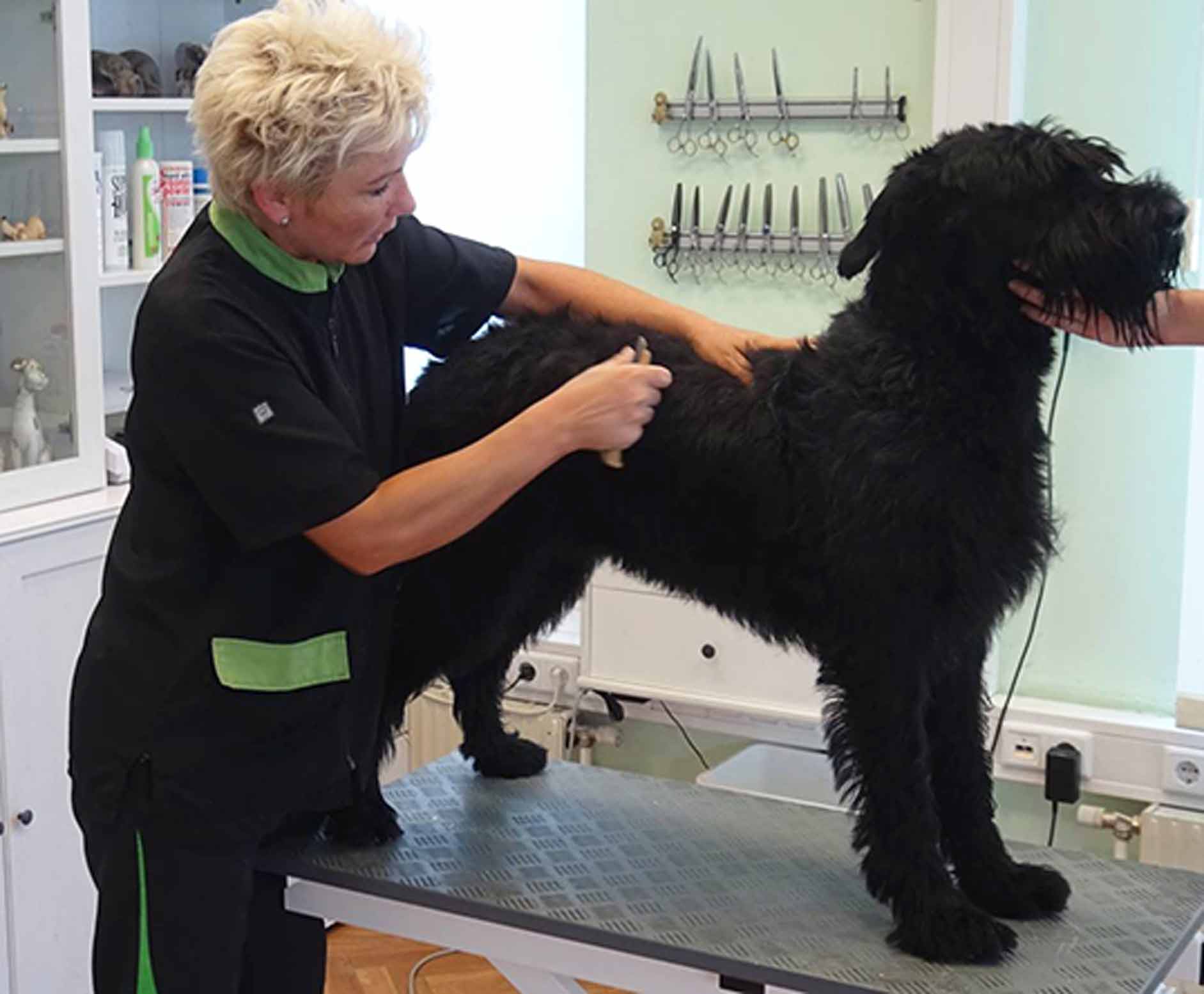 Hand-stripping Theory in Practice
Are you up for PROPER hand-stripping?
In this unique course, you will learn everything you need to know about PROPER Hand-stripping.
When it comes to hand-stripping, many even experienced groomers know a few key points. They understand that this grooming technique is important, and it should be applied to coarse coated dogs After that, there's a good deal of confusion and misinformation regarding a range of issues dealing with procedures, terminology, tools and so on.
The experienced professional, Margit Schönauer invites you to a journey into the world of PROPER hand-stripping and gives you a comprehensive insight into this grooming technique. Whether a novice or a practiced groomer, this compact course is invaluable for everyone.
In the first chapter, you will be introduced systematically to the fundamentals of hand-stripping. You'll find answers here to the most frequent problems, uncertainties and questions from "Which hairs should be hand-stripped?" to "How to groom wired or coarse-haired dogs, which are not possible to hand-strip?"
In the second chapter, Margit Schönauer will present you the most common tools used for this grooming technique structured and understandably through illustrations, photos, clear descriptions and a video. The basic know-how is summarized again in the practice tests.
The third chapter is the heart of this course. Margit Schönauer demonstrates her students the various hand-stripping techniques application-oriented and step-by-step in 7 video lectures.
Up-to-date, down-to-earth and with lots of fun!
Includes:
23 interactive learning slides with pictures
8 learning videos
11 practice tests
Forum - get in contact with other groomers and pet stylists around the world!
Ideal for:
Newbies, who would like to gain sound knowledge in this profession.
Groomers with experience and returnees(career break returners), who:

Want to complement and/or deepen their know-how.
Want to acquire the "winning formula" of Margit Schönauer.
Are not sure if their know-how was correct and up-to-date.
Want to discover basic knowledge and skills from a different perspective.
For all, who:

Want to understand, how you can be efficient and effective in this profession.
Value self-paced learning.
Know, that there are many ways to learn something.
Table of contents:
Hand-stripping theory

What does "hand-stripping" mean?
Breeds, which should be hand-stripped
How often do we need to hand-strip a dog?
When is hand-stripping possible?
In which step of the work process do we hand-strip?
What does "finish stripping" mean?
How to groom wired or coarse-haired dogs, which are not possible to hand-strip?
Hand-stripping dogs with a mixed coat texture of silky and coarse combination coat
When to start hand-stripping puppies?

Hand-stripping tools

Tools and supplies for hand-stripping
Practical tips - Video

Hand-stripping techniques

Overview of hand-stripping techniques
What happens, if we apply the wrong hand-stripping technique?
How to use the hand-stripping-powder - video
Hand-stripping technique - with fingers - video
Hand-stripping technique - with the stripping-stick - video
Hand-stripping technique - with the stripping-stone - video
Hand-stripping technique - with the dull stripping-knife - video
Hand-stripping technique - with the finish-stripping-knife - video
Hand-stripping the silky-combination coat - video

Forum
Details:
Course start: anytime
Course access time: 1 month. Learn at your pace and sequence.
Prolongation: possible
Certificate: To get your certificate, you must pass the test at the end of the course. You need to answer 70% of the questions correctly to pass the test. You may repeat taking the test as often as you wish.

Requirements
None

Happy Dog Groomers e-Academy Homepage
On our learning platform, we teach quality rather than quantity. We have committed ourselves to offer the highest quality of education and training at a reasonable price. Hundreds of hours of work and the life experience of several people are behind every course.
Relevance and efficiency are essential factors for our students. With us you will not get bored with hours of superfluous videos, we respect the limited time resources of our students and focus on important and essential educational goals.
If you master the skills and fully acquire the know-how of the chosen course, you have reached a significant milestone on your way to becoming a professional. You are certainly able to manage that, however, it requires lots of time spent on intense practice. Watching (long) videos and reading endless texts will not get you further.
---